Special projects
Special project is very effective marketing tool
You want to create an article but it has a lack of its opportunities? Creativity and media plan of special project - here is our proposition!
Professional and high-quality positioning of the brand within special project allows you to achieve the marketing goals set by the customer and actively interact with the attracted audience.
Special project is much more than just an article


exclusive solution for your brand


perfect opportunity to attract more customers as well as start and grow your business


increase user's loyalty to your brand due to using reputation of our resource


Why are our sites in need for advertising?


Audience
Attracted customers are city inhabitants


Sense connection
Our sites are popular Ukrainian platforms within each city. Making Special Project within even one site, a "shot" at the target audience of a particular city will be as accurate as possible.


Site capabilities
We know how to engage the audience effectively: Interactive elements, user-generated-content (UGC), tests and other formats.
What KPI predictionscan we give?
Unique page coverage
number of people who will go to its branded pages
Number of advertising materials hits
How many times has your advertising been displayed on the site
Additional parameters
number of interactions and involved users
We prepare special project for a specific customer
Example of a special project developed for the Grandbud residential complex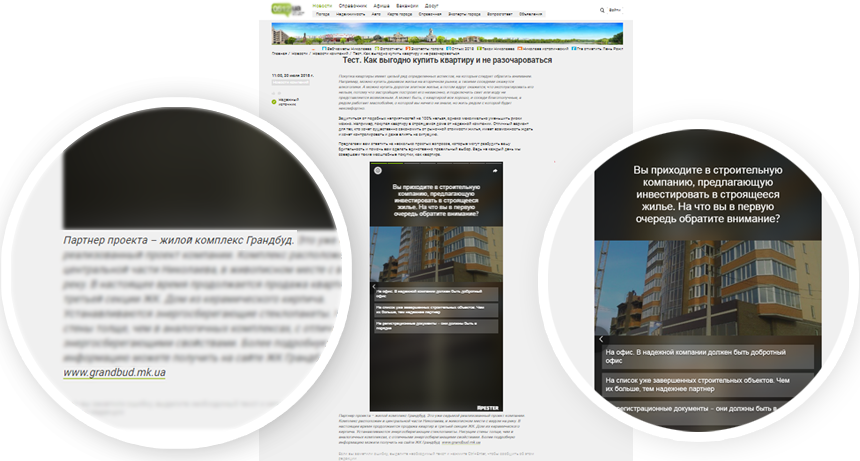 Information about the partner with the offer to go to his page
User interacts through tests, obtaining information assistance that forms customer's loyalty to our partner
Price list

Price is calculated individually, depending on the project's design, content, and audience attraction.