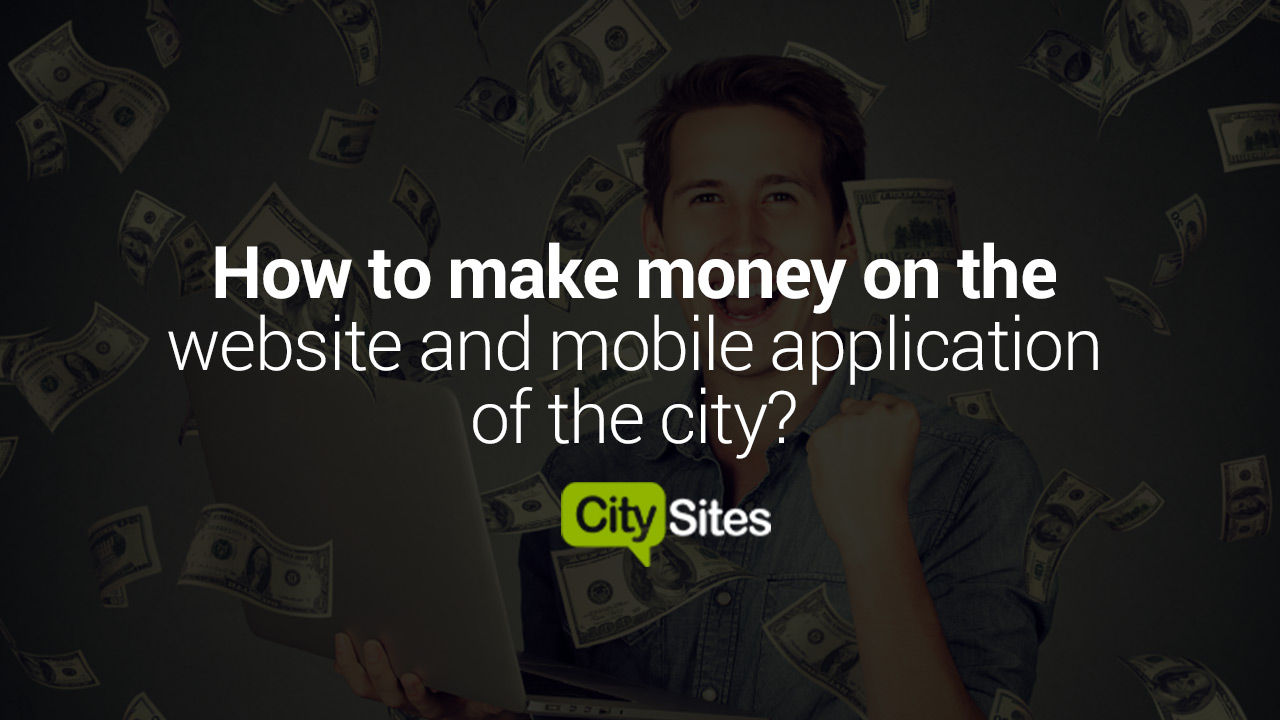 Especially for those interested in CitySites franchise, we have prepared a cycle of materials that should help to understand the essence of this business. It holds on three whales: advertising sales (profit), technical development (urban online platform) and journalism (content).
In this article we will talk about profits: how can this project make money at all?
Any site can bring profit to the owner. It depends on such points:
Model of monetization,
Focus on sales of advertising services,
Website attendance, etc.
So, city sites of CitySites network are developing due to the profits that project owners receive by placing advertisements.
Why should we sell ads on a city website?
Sales of ad services are the only way to make money at the moment, and we don't recommend any other ways of making money on a city website, or on websites in general. Considering this fact, this website was originally designed with the optimal balance of content / advertising.
How to sell ads on the city site and application, what is the average check?
The processes of advertising sales are slightly different even in our network of city sites. Some managers prefer aggressive sales, some people rely on cold calls, while others prefer the maximum of personal acquaintances received at various specialized conferences. In this article we will describe a generalized model of work that you can adapt for yourself after a certain period of cooperation.
What is a sales department?
The sales department is a team of advertising sales managers headed by the sales director. At the very beginning of the site operaion, the owner acts as sales director. The number of employees depends on the city population. It's needed at least 3 employees and there is no top bracket. For million cities it is from 20 managers.
What are the responsibilities of sales manager?
The main and most obvious one is to sell ads on your city site. How to do it? Pretty simple:
find a customer;
sign a contract.
Perhaps, you're smiling now, but this is exactly what happens usually. Let's answer questions you may have.
How to find a client?
All potential advertisers can be sorted into conditional groups: clubs, courses, medicine, taxi, restaurants, etc. These areas are distributed among the employees of sales department, which immediately excludes the possibility of working with one client by several managers.
Sales manager creates for himself the customer base to make cold contacts after receiving direction. Then he calls it or writes letters, offering to place an advertisement.
Customers base can be collected using search engines, various directories of companies, social networks, personal acquaintances, seeing outdoor advertising (it is a potential advertiser for you too), etc. For each partner, we assemble such a database and filling the directory of enterprises (we will talk about it below). This is a ready base for work.
When the site gains a certain popularity, advertisers will start contacting you. Well, it is much easier to work with such clients.
Sales process
To increase the sale probability, we give you a set of scripts, webinars, and your curator provides an opportunity of personal improvement of sales skills, not only for you, but also for your managers. It is very important for our team that you do everything correctly and make money - otherwise we will lose a partner, and this is not beneficial for any of us.
Usually, everything works like this: certain groups of clients need this or that advertising service. Absolutely everyone can be placed in the business directory - a catalog that has no restrictions on the number of participants (more details is in the review below).
Our approach can be described in such a chain: the manager identifies the client's needs -> Offers a solution -> Concludes a contract.
Both remote communication and personal meetings are suitable for making deals.
So how much money will it bring?
The average bill from a client in the CIS - $250.
What advertising services does the city site and application offer?
There are 11 advertising slots on the site and in the mobile application. Placement is designed for different target audiences and has different price. Let's explore them in details.
To become a pro in the local online advertising market, you have to do well only 2 things: attract people to your site and be able to sell ads on it.
We tried to write this text as simple as possible, but you cannot avoid completely the use of specific terms, as you understand.
1. Classic banners on the site
One of the oldest ways to advertise yourself in Internet. Today, such advertising is important as branding and increasing the awareness of the company and its product among consumers.
The site has many sections: events calendar, real estate market, leisure, etc. Banners can be placed in different sections, to advertise, for example, a new building in the "Real Estate" section - exactly where the target audience of the advertiser-developer is located.
Key advantage:
This is a tool for wide and inexpensive coverage of a wide audience, with the ability to display advertising in specialized sections in order to target accurately customer's audience.
Potential customers for the sale of banner advertising:
everyone who is advertised outdoors in your city;
all categories of businesses and products that want to get more customers;
all who are interested in organizing information background, declare themselves;
organizers of various events for which it is important to get maximum visitors.
It is important to understand:
a key advantage of online banner comparing with outdoor one is that you can click on it and go to another site. Unlike the classic outdoor banner, you can estimate more accurately how many people saw the banner and clicked on it;
the banner lets you tell the client briefly about the main thing;
tell the client in more detail how this advertisement works, give recommendations on the design of its banner. Let him know that the banner will be seen by site visitors and most of them are locals;
recommend customers to use UTM tags to track the effectiveness of their banner ads.
Propose your customers to create a banner for them. This is possible if your staff has a graphic designer. Increase the average check from the service.
2. Banners in the mobile application
Banners in the mobile application work on the same way as on the web version of the city's website. The main advantage of placing it in the mobile application - advertising takes up to 20% of the screen space and cannot go unnoticed.
Key advantage: wide coverage of gadget owners, with the ability to promote mobile applications designed for a narrow audience - residents of only one specific city.
Who is your potential customers:
all customers listed for banner advertising in the web-version, whose sites are adapted for viewing on cell phones;
owners of mobile applications providing popular services and entertainment: restaurants, taxi, food delivery, etc.
Important:
usually, a higher

conversion

is obtained from mobile devices. Offer the client to place banners in turn on the site and in the application to find out which one is the most effective for him;
Only those who use the city's mobile app will see the ad. Advertising is displayed on iOS and Android smartphones and tablets;
the more applications installed, the more users you have. You can find out how many people use the application using Google Analytics (we give you access).
3. Advertising articles
Custom (advertising, informational) articles are also one of the oldest, but very effective ways to promote something on the Internet.
We allow embedding up to three direct links to other sites in the article. There are two sections for advertising articles - "Company News" and "Advertising". Publication in the first section is more expensive, and we recommend placing only native advertising articles in it. All other types of articles, including SEO materials for creating a link mass of the site, are placed in "Advertising" section.
Key advantage: an effective tool for wide audience coverage, which allows you to bring your product or service in detail and lead to a purchase.
Who are the potential customers:
everyone who is interested in getting quick coverage of the event - promotions, opening a new store, training, etc.;
wishing to create information background (a great combination: site + article);
for those, who build a link mass for their site and need high-quality links from good sites that give traffic. Usually, these are SEO-optimizers;
For those, who wish to remind of themselves, to re-attract former customers;
political forces (double price);
other advertisers who are interested to tell about themselves to city residents.
Important:
advertising articles are a powerful source of profit for the site. It fits almost any advertiser, the articles are displayed in general news feed, all site visitors see them, and the links that are placed in the articles are open for indexing and are eternal;
articles must be proofread before publication, we place no more than three links, the subject of articles should not violate the laws of the country;
recommend customers to identify problems and solve it with the help of their service or product. Remind them that they need to call to action in order to get a client;
native advertising - the most advanced type of article. Be sure to recommend to write and publish this type of articles. However, the advertiser needs a good copywriter and time to write them;
Having a copywriter in the staff can increase the average bill, you can propose customers to write and publish an article for them.
4. Business directory
The main task that this section solves for visitors is a quick and convenient way to find the right store, services, hospitals, etc. with the help of the most complete catalog of companies and urban organizations.
Up 70% of income is generated by this service on many of our sites.
This service looks like a landing page of a company. You can add company description, products, post reviews, write company news, include product photos with links to purchase, etc.
Key advantage: an infinite number of advertising spaces comparing with banners, articles, etc.
Who are potential customers:
all representatives of local small and medium business who need customers among the city population;
individual service providers. For example, photographers, massage therapists, plumbers, etc.
Important:
placement in the business directory is an excellent advertising tool with a good return. The secret is that visitors of the business directory are as relevant as possible;
It is needed to write unique descriptions for any placement in the business directory. This will increase the number of visitors to your site and the advertiser's customers due to the fact that the page will be indexed properly by search engines.
placement in the business directory is the only service, which by default is duplicated for free in the mobile application. Other advertising placements in the application are duplicated for an additional fee.
we recommend selling the placement in the directory for at least a year without discounts on it. The thing is that for an accurate assessment of the results you need to wait for the correct indexing by search engines of the directory page, the seasonality of the business can also play a role.
5. Placement in the "Questions and Answers"
In this section, users can directly communicate with experts in their fields: lawyers, notaries, doctors, and even clergy. Placement is essentially a copy of the usual placement in the business directory, the only difference is the presence of a comments chain in the question-answer format.
The key advantage: this functionality is often not provided for even when creating personal sites. For a consultant, this is an opportunity to show their professionalism to the residents of the city, which allows you to attract many more clients.
Who are the potential clients:
lawyers, lawyers, etc., who advise on legal and notarial issues;
doctors, private clinics representatives;
veterinarians;
clergymen;
other categories practicing the provision of services.
Important:
the response needs to be posted in such a way that the person who asked the question wants to contact the advertiser (to become a client);
in case of a new question, a copy of the question should be sent to the advertiser in the email notification;
recommend not to delay the answers, even if you have to give them for free. The section will be read by potential customers, and depending on how quickly and efficiently answers are received whether people want to become customers of the advertiser.
6. Classifieds
Classifieds section is created for the sale of goods or services between city dwellers. To speed up the transaction process, you can highlight or promote ads.
The key advantage for you: this section works autonomously and brings passive income. Your managers aren't connected for the sale of this service, users will pay for the opportunity to highlight their ads.
Who are potential customers:
all visitors to your city site and application. We all need to sell or buy something sometimes.
Important:
we advise promoting this section so it could work well: Upload the most interesting ads from eternal resources weekly, give opportunities to highlight as a gift when buying some kind of advertising so that there are as many ads as possible;
in order to avoid being disappointed with the placement, the customers of the section should clearly understand that such an advertisement will not be seen outside your city.
7. Highlighted ads in the sections of cars, vacancies and real estate
Functionally, these three sections do not differ from ordinary ads. However, these sections are designed to cover more accurately audiences. They also have additional features that allow you to make your ad more visible.
The key advantage for you: similar to classifieds, this is another stream of passive income from the site.
Who are potential customers:
customers who are placed in the business directory;
for cars: car dealerships, online and offline retail car sales outlets;
for vacancies: all city recruiting agencies, as well as all business categories that require employees hired "yesterday";
for real estate: construction companies, real estate agencies, private individuals who rent housing.
Important:
we recommend paying attention to these sections and promoting them. As part of our business, we provide you with promotional materials for these sections. Use them for advertising, including outdoor.
use it as a tool when closing deals: when a client wants to decline to advertise because of the high price - give him a bonus for free placement in these sections. You kill two birds with one stone: there will be more ads, and you won't lose money.
8. Branded page
A branded page is a very effective way to tell about yourself from the main page of the city site. Link to this page is fixed in the header of the site. You can tell about your company, discount or service. The meaning echoes with placement the business directory, but on such a page you can edit the template, add your html-code, for example, to listen to a local online radio station. The link looks like this: http://www.6262.com.ua/p/radio.
Also, such pages are indexed in search engines.
Key feature: this service can replace a website for companies without it. Repeatedly encountered examples when an advertising banner on the Internet or outdoor leads to a branded page on our city website.
Who are the potential customers:
urban firms that do not have their sites. Small business, which can't develop
develop a site, but want to have such on the Internet;
businesses that require a detailed description of their product or service;
all other businesses that are willing to become well-known.
Important:
recommend this type of advertising for at least 3 months, because in a short time the page will not have time to be indexed and will not give additional organic traffic;
such advertising is sold only in conjunction Branded page - Link to it under the header.
9. Photo report on the main page
A photo report is a convenient way to tell about some event in a photo, as well as share photos with participants. The price is truly ridiculous, therefore, we often recommend giving it as a free bonus when placing another type of advertising.
Key feature: people like to see themselves on other sites, it gives a feeling of fame. Visitors are willing to browse such photo albums and upload them to their social profiles. Each photo has a watermark of the city site.
Who are the potential customers:
opening stores (owners);
nightclubs;
theaters;
barbershop;
educational projects and other events with a large number of participants.
Important:
a photo report is pinned for a month;
the site has limited number of places for this section (on the main page).
10. Advertising on social networks
Basically, this type of advertising acts as a bonus. Develop your social networks to attract more advertisers, otherwise, advertising will not produce results.
Key feature: such advertising is effective only if there are many subscribers in the group of your site on the social network.
Who are potential customers:
all your advertisers interested in additional coverage of advertising.
It is important to understand:
you need to work on your social networks, they give extra money and visitors;
All social networks make it possible to analyze each entry, including the ad. You can give measured figures after advertising, how many people saw the record, how many followed the link.
11. Special projects
This is one of the newest but effective ways to make money. How it works: the special project is made for the client, in the format of one client - one special project. Then the subject is chosen and the problematic is developed, which is revealed by the journalists of the site. The project is supported by the advertising capabilities of the site, costs much and requires effort from both parties. The main goal is maximum views, top attention, a lot of interested customers in the end. Journalists create native advertising content.
As an example of such an advertisement on the Rostov site, there was a comparison of various residential complexes for a home purchase. Sberbank of Russia acted as general sponsor. The point is quite simple: those who want to buy housing are potential bank customers because very often apartments are bought on a bank loan. And having told about residential complexes, which, by the way, also paid for participation in the rating, it can be said that they are working under the Sberbank program and a loan can be issued for such housing. Two advertisements in one material.
Also, there is a scenario of comparing products in a competitive area. For example, on the site of Kharkov, a comparison of mobile applications for ordering a taxi was conducted, in which people voted and chose the most convenient. There is no main sponsor, all participants are equal and the result is determined by the residents. The results are naturally widely reported.
Key feature: special projects - this is one of the most elegant promotional offers. Such advertising is not widespread and is in demand. It is interesting for everyone: advertisers, visitors, and even journalists.
Who are potential customers:
large-sized business, with large checks, which can afford such advertising;
all representatives in competitive niches: taxi services, restaurants, cinemas, clubs, political organizations, etc.
Important:
each special project requires certain time and efforts to create it;
a journalist who is engaged in a special project should have a certain level of
skills and be on the same page with his readers;
With proper work and good response from such materials, you can shift the model of the site from selling all other advertising, focusing only on
special projects. You will need more journalists.
The cost of the special project is calculated individually for each client.
What to do if I have a bad understanding of what is written here?
Without encountering this kind of business earlier, this is absolutely fine.
That is why we paid close attention to supporting partners and a powerful training system. For you, everything starts with a small task - creating news feeds and hiring several employees in the sales department. At the beginning of the journey, you will sell regular advertising services as a classic platform for placing this online advertisement, and you will get your first profit.
A further turnover increase will occur when you realize how your advertising space can help your client.
Read on: CitySites city platform features overview