So, you have become the proud owner of the CitySites franchise, congratulations! But what to do next?
All processes are described in detail in the corporate literature, which provided by the company, additionally covered in webinars, it's yours an experienced curator is assigned, who helps you in establishing a business in your city and advises how to do the right thing in this or that situation. Moreover, you can attend a two-day course for free Intensive jointly conducted by the company's development department CitySites and branch 057.ua.
now goal number 1 - to gain credibility in the city and become the most recognizable city site. Here, the company also helps with its development experience. business, provides an advertising campaign, tried and tested cases and much more.
yours the task is to realize our experience in our city, to establish contacts with city authorities, utilities, police, medical institutions, firefighters, Emergencies Ministry, etc., without losing sight of and establishments of leisure and rest.
to you you need to declare the Site of the city N to the whole city and increase recognition, participating in various city events, promoting local improving the quality of life. It's even better to initiate it yourself various events, find partners and agree on a joint holding flash mobs, Unnat's Day, or Poetry Evenings in a city park.
on In one example, I want to stop today. An example of how the Site the city listens to the requests and complaints of citizens and contributes solving these problems.
The site of the city of Lyubertsy recently launched a special topic called the Complaint Book, in which the site editors add news with complaints from residents cities that somewhere something broke, asphalt failed, a tree fell, there are not enough playgrounds, etc., as well as the editors themselves conducts its investigations to search for such "urban flaws."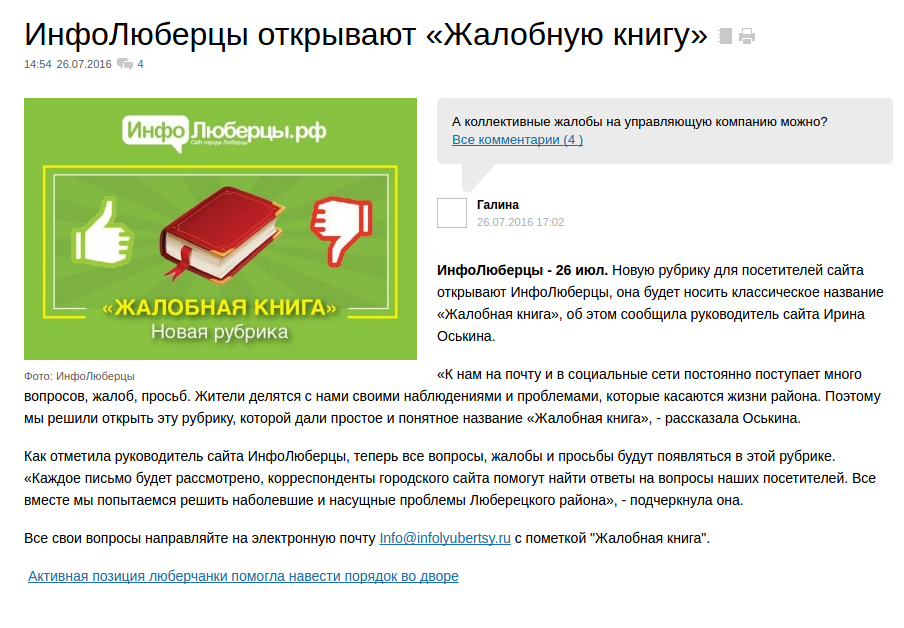 Next The editors of the site make recommendations on who to contact This issue and in general what to do in this situation.
in The main thing on this issue is not only to highlight the problem, but also to contribute to its solution, because you, as a city site, have all the possibilities to help residents with information.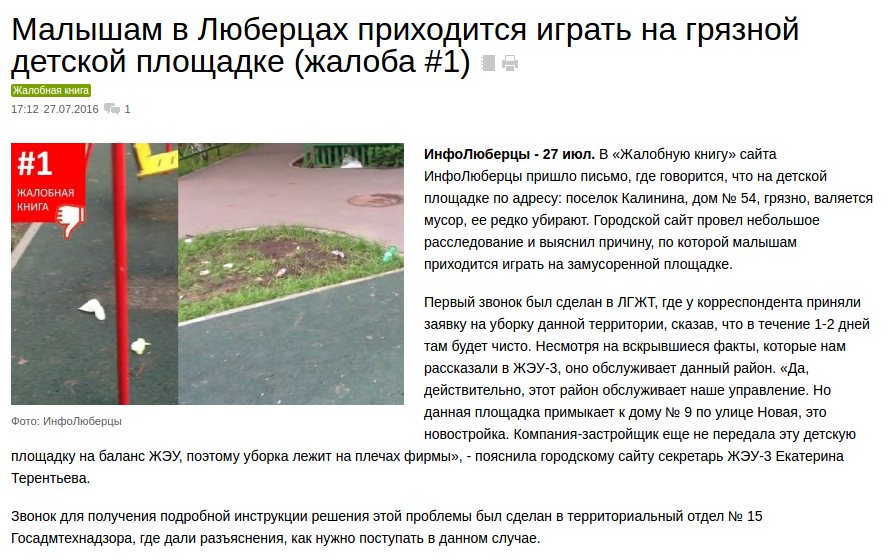 So, on July 27, 2016, InfoLubertsy received the news that one of the playgrounds wasn't cleaned, the children had to play among the garbage and on July 28 the playground was cleaned by the local housing department.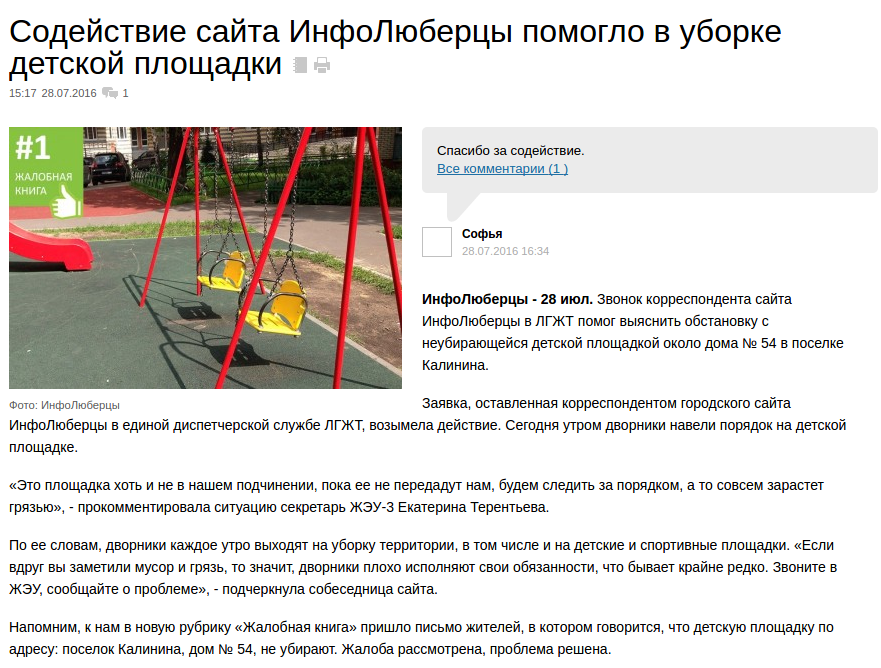 It seems would be a trifle - but everyone is pleased. And the InfoLubertsy website is automatically gaining positive reviews among the female population on maternity leave. And in such moments we have a sense of pride that our partners really indifferent to what is happening in their city and they not just can affect the situation, they do it!
K why am I the owners CitySites franchises not only own a business, but also a unique tool, an information resource that should to be the link between ordinary residents of the city and urban by the authorities. You must be trusted, and trust, as you know, needs to be won. You are able to help those who need your help. If you want to, The city N site is Batman, who must guard his Gotham;)

Participate in the life of the city can be completely different ways, it all depends on your enterprise and imagination. Just remember to become Site # 1 in city, you must be as open and objective as possible and be on side of justice. And we will help you with this. To be continued ..
Ksenia Alyokhina