What is a webinar and why is it being held?

All more often in the information space there is the term "webinar". Perhaps, intuitively, we can guess its meaning, but for the sake of clarity let's find out exactly what it means.
Any a self-respecting company conducts webinars from time to time. About it You can read advertisements calling to take part in similar event. In fact, a newfangled phenomenon is nothing but like a well-forgotten old, only using modern technology.
to everyone anyone who has ever studied or advanced their qualifications is known the concept of a "workshop" So webinars - these are the very seminars, only organized online, online. Especially valuable such events for employees working remotely.
now You can take part in an important meeting remotely without leaving from home or office, which, you see, is very convenient and economical from the point of view of organizational costs.
Workshops, lectures, seminars, conferences, courses, trainings, meetings and even advice directors are now held in webinar format, which is significantly makes life easier for both sides of online meetings.
Key benefits of webinars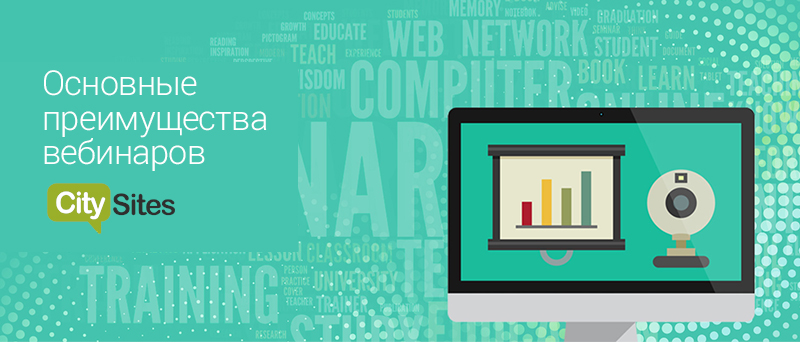 Let's consider in more detail the advantages of webinars over classrooms:
in unlike the closed premises where a regular seminar is held, in online space you can give a lecture for several hundred at once listeners. Provided that the webinar participants have access to the Web, the audience of recipients can be several times larger in quantity indicator than in a stationary office. Obviously, much less time spent on organization and preparation.
Thanks technical capabilities, several people can be lecturers at once, who are in different parts of the world! Organize a similar lecture in real plane, you see, is very problematic and troublesome.
Webinar interactive. It's not just one-way listening to a lecture, which streamed on the Internet from cameras, as if it were recorded in advance. Thanks to the communication of the workshop participants via webcams and the ability to chat in real time, the online seminar is in no way inferior to the lively communication of the audience and lecturer in the hall.
Webinar very convenient for the lecturer. Unlike a live audience, which unpredictable and sudden, can interrupt or ask an inappropriate question, during online training, such a possibility is excluded by the settings. That is, the speaker can filter calls and messages, rejecting unwanted and accepting interesting.
More one opportunity for a lecturer conducting a webinar is to delete offenders offline without conflict, explanation or waste of time.
Minimum cost - an important advantage of webinar over classroom workshops. In fact, to organize and conduct a meeting of trainers and Internet listeners only need a special program, mobile devices and the Internet. In reality, the organizers will have to take on cares about providing equipment, facilities, accommodation, travel, participants nutrition and other nuances.
To gather people for an online conference, you do not need individual communication and invitations to everyone. Enough to do the newsletter.
Webinars are an information product. Having recorded the seminar, you have on hand ready-made training material that you can sell, give, offer in as a bonus, advertise, etc.
Living communication and reaction of the webinar audience allows the organizers of the lecture instantly test the demand for your product, products, material. From questions and comments from the audience, you can understand where there are weaknesses and what needs to be finalized by the learning side
Based of the above, the webinar is a great opportunity to convey a wide range of recipients the necessary information, demonstrate it clearly advertise your product (service) to unlimited the number of users in live communication.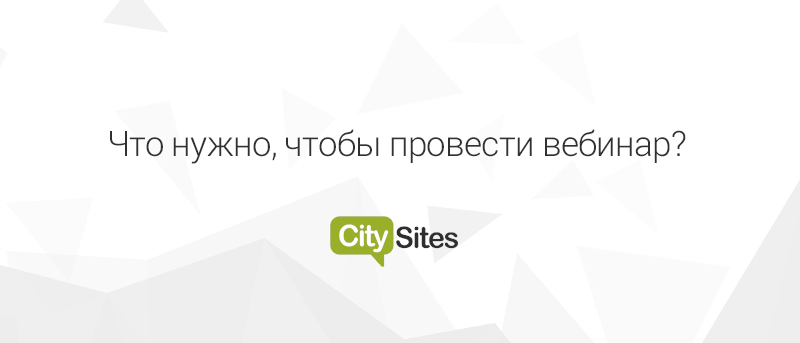 How to host a webinar?
If You set out to conduct a webinar, then, most likely, the most necessary technical support is already at your disposal. This is a webcam, speakers, headphones, a microphone, a computer or laptop, Internet access. Broadcasting, as a rule, is carried out through a player included in the software your computer. The only thing to work on is the choice service with which the broadcast will be carried out. Such The program is easy to pick up on the Internet. The main thing is to carefully read the list of service properties so that they match all your requirements. For example, lecture screen demonstration, broadcast Acdio and video materials and more.
Given all the benefits of interactive lectures, webinars are trending today. This is the most convenient form of training and doing business.
of course as an option, you can take into account audio and video courses, books, at the end end, but live communication with the lecturer will not replace anything. Webinar gives the opportunity in the "question-answer" mode to instantly clarify ambiguities and solve all the difficulties encountered in the development of the material. Do not lose time, and use the moment to draw attention to the information product.
You can learn more about our turnkey business on the home page.
Vera Cherenko