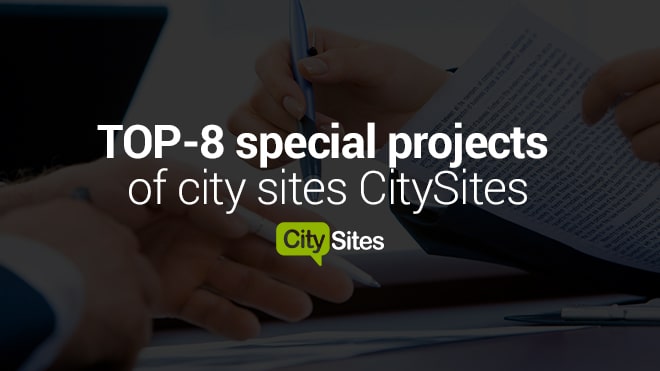 Special projects are a pretty effective way to make money on a city's website , as well as one of the most elegant forms of advertising: it is not common, on there is a demand for it, and most importantly, the material is interesting to everyone: both advertisers and readers, and even the journalists themselves.
how it works: the advertiser orders a special project, then select topics and issues that are being developed site reporters. Or journalists choose the topic of the project, its format and Offer it to a potential customer. Then the journalists form the texts in the form of professional native advertising.
Basic the goal is to get maximum readings, maximum attention to the topic, and in the end - maximum loyal customers. After all, each of these projects requires a certain level of knowledge, professional skills and enough a lot of time.
Besides of everything else, you need to be "on the same wavelength" with your reader. At there is a big plus for special projects - with a competent approach, you can get a good response from the material, and in the future you can make this look advertising is a priority.
More one point - not all publications may be commercial in nature. Some topics of special projects can be developed by journalists for increase the attractiveness of publications and increase traffic to the site. Naturally, after a site or section of a site becomes readable and popular, you can implement paid advertisers articles.
In our today's material, we have collected the best examples of such projects in the network of city sites CitySites.
Website of the city of Zaporozhye - www.061.ua
Perhaps this site is the leader among the varieties of special projects. Consider the most interesting of them.
Test drive of Zaporizhzhya food services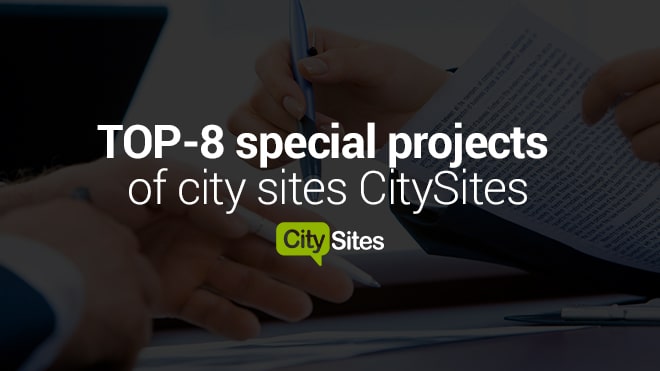 Reporting about catering facilities made on the basis of the well-known television program "Examiner": analyzes prices, assortment of menus, The interior, service and atmosphere of the restaurants as a whole.
Similar projects can be seen on the sites of Kiev and Lviv, but the special project of Zaporizhzhya colleagues is one of the most complete and diverse. This topic describes not only cafes and restaurants cities, but also delivery services. The material is served in a rather sharp manner - story authors sometimes feel free to compare the design of the hall with toilet design or advise to change the chef.
in In general, the special project is decorated with many photographs (both dishes and checks), the feed format is interesting, and the number of views is high. The material is distinguished by active reader comments and is rather polar.
Each the publication is accompanied by a comment from the portal's journalists: "This the special project has nothing to do with advertising, the authors express in it personal subjective feelings from visiting cafes and restaurants. IN comments you can suggest places for future issues of the column. "
Inspirational stories of the Cossacks who opened their business with

Interesting stories of people, residents of Zaporozhye, who organized any unusual business, project, start-up and so on. Main format filing - interview. Publications are accompanied by many photographs or video. It is worth noting that this special project also has high attendance and discussion indicators - primarily due to the fact that it is also about the people who live in Zaporozhye, they are familiar to many readers of the portal, but their stories are revealed in a new way.
How to travel without travel agencies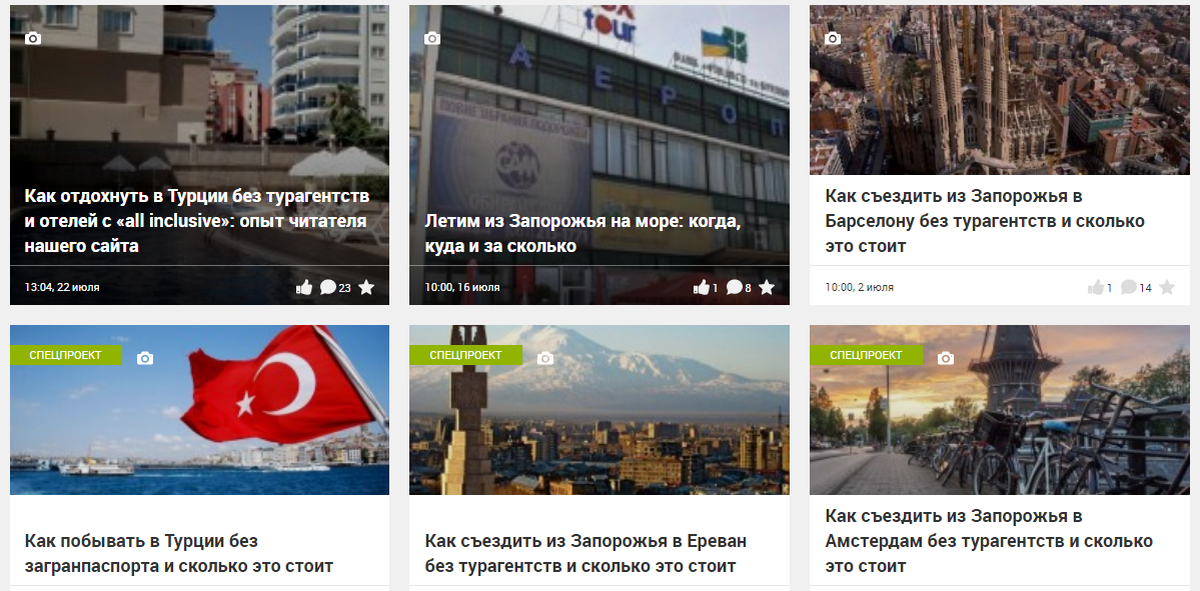 Great material about independent travel. Journalists 061.ua in detail consider where to find low cost flights (or alternative transport options), how to book accommodation, what places to visit in selected city. They also analyze transport and infrastructure, accompanying it all with colorful photographs and links to useful services and resources for travelers.
The most beautiful places of the Mangistau region
One of the most beautiful non-profit special projects designed to increase site traffic and reader engagement. Here are collected very beautiful photos of the natural beauties and sights of the city, There are articles about unusual places. Separately, we can note the incredible a selection of photos "Aktau through the eyes of Instagram users".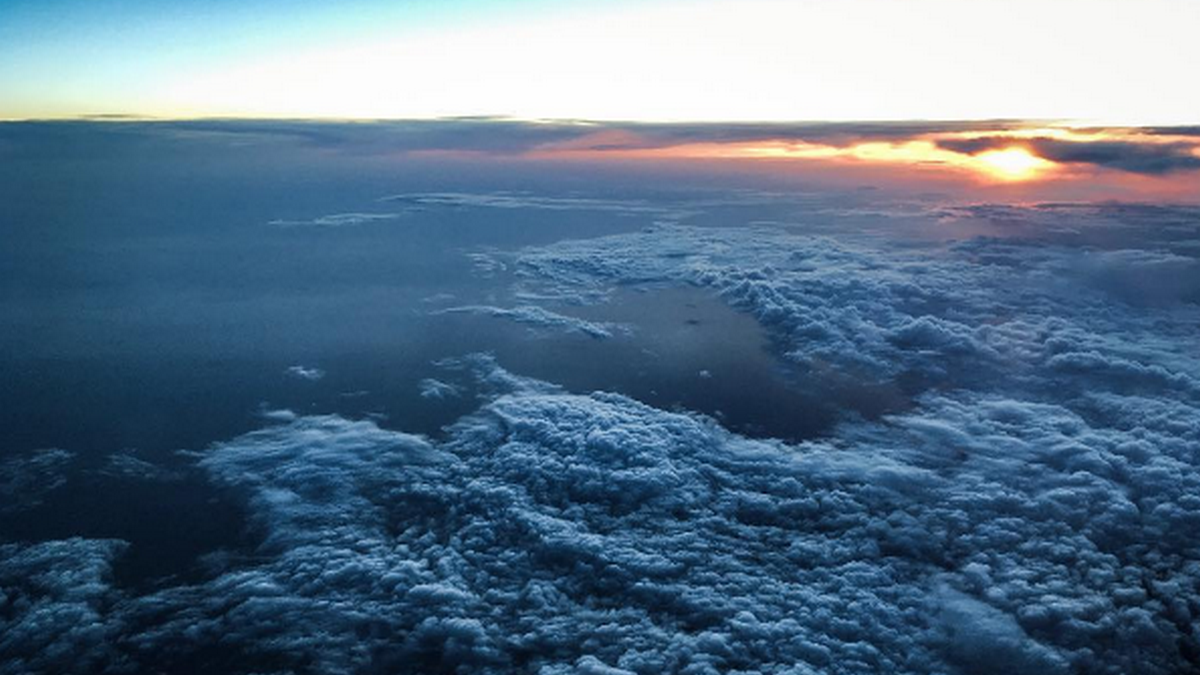 Site of the city of Slavyansk - www.6262.com.ua
Slavyansk aerial view
The site of the city of Slavyansk surprised the townspeople of the new special theme "Slavyansk aerial view". news for headings are created using a drone. The subject matter is different, but all reports are spectacular in presentation.
We offer you some interesting videos:
If you think about such an experience, you should pay attention to legislative regulation of the UAV market. In addition, the cost high-quality equipment remains quite high. Staff the site of the city of Slavyansk use the quadcopter DJI Phantom 4, among recommended analogues - high-quality Phantom 4 Pro and DJI MAVIC PRO (the most compact and very good choice for journalistic work).
you you can think about options for increasing the payback of a drone - for example, shoot various custom videos or commercials.
The site of the city of Kiev - www.44.ua
Special project "My new profession"

Project aims to show everyone who wants to change their a profession that is not difficult. Moreover, it can be implemented in short deadlines. In this commercial special project - a description of many different educational resources - from cooking classes and makeup schools to navigation courses and the sommelier school.
Dnepr city site - www.056.ua

Special project "FAQ, what to do if ...?"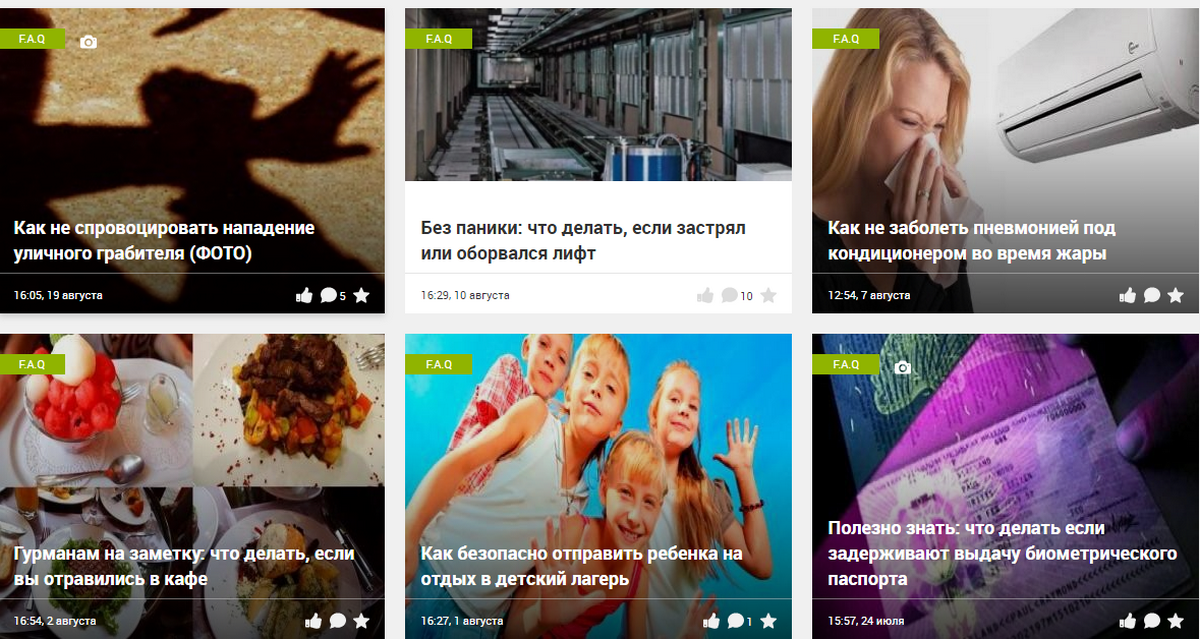 Authors raise various topics: from household ("How to prepare an apartment for cold weather) to the more important ones ("What to do if the car is damaged in bad road "," How not to provoke an attack of a robber ", etc.). All materials are submitted either in the form of recommendations or in the form of comments from relevant company specialists.
It is worth noting the high rating of publications and the active discussion of readers.
Verified by myself

More one non-banal and interesting project of Dnepr journalists. Project authors try on various professions, test life hacks, experimenting with how to quit smoking or how to live a week without phone.
Among the interesting projects, one can also note the special project of Mariupol "Investigations 0629" (where journalists conduct their own investigations of scandalous situations in the city), "Tests about the city" - they are practiced by Lviv and Mariupol, as well as the project of the Dnieper city website "Tasty for 100 "(Where, in contrast to the above" Test drives ... "food is chosen with a limited budget of 100 UAH.)

We hope that our material inspired you to create special projects on your sites. We offer several more topics for them, many of which are already adopted by partners CitySites .
TOP fitness clubs / medical clinics / web studios (and other lists of your choice) of the city ....
Made in ....... ..
Winter: warming and heating
10 tips from the autumn blues
How to eat without leaving home
I want to drive (project about driving schools, courses)
Where to celebrate a birthday in the city ... ..
I want to live in ... .. (real estate project).