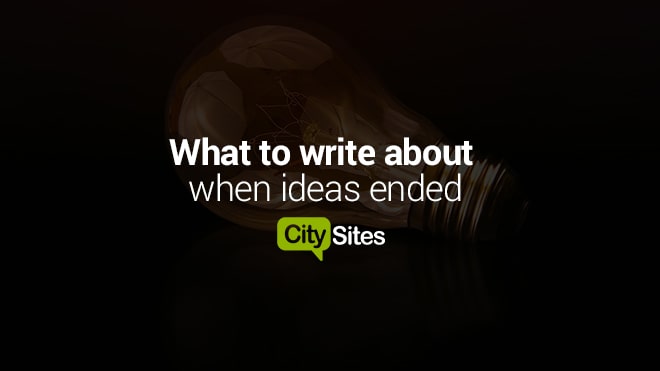 Those who write for websites or blogs every day necessarily face the problem: "what to write when there is nothing to write about." This is like a typical female problem: what to wear, when there is nothing to wear ... Today we will consider a few ideas, so we pour tea and go ...
Idea # 1.
We make a hit parade. A great option for any field of activity. The hit parade can be thematic or on an abstract topic, it all depends on your imagination. For example, I like to write a selection of films for the weekend, it can be TOP-5 comedies or a more serious selection for film lovers.
You can create your own hit parade on any topic, preferably, bind your target audience to your profile of activity or to the interests. The more interesting and original the topic will be, the more readers you will have. So, the options are:
TOP 10 drinks on Friday
TOP 5 weekend entertainment spots
TOP 10 books for marketers
TOP 5 films about artists
TOP 7 skills every day
TOP 20 way to beautifully refuse
...
As you can see, the topic of your TOP can be completely different, the main thing is for readers to be interested. The main parameter for writing a hit parade should be the criterion by which it was drawn up, then it is perceived as a personal opinion of the writer and people are willing to accept it.
Idea # 2.
Inspiration around us. You can select the most inspiring from existing articles and highlight them. You can give interesting cases as an example or show photo reports about events. Also, based on previous materials, you can make infographics, etc.
All these options allow you to visualize the material and present it perfectly, on the other hand. Photos and pictures are a vivid material that gives the necessary emotions to the reader. The most important thing in this idea is to catch the mood when you want to create and pass inspiration to other people.
Idea # 3.
Own collection. This can be a collection of your own aphorisms (which, incidentally, can be collected from previous articles), a collection of curious cases at work, a collection of jokes or funny stories from personal life. As well as a collection of their own life hacks. I'm sure you have something interesting in stock, you just didn't think about it.
Idea # 4.
Continued. Find the most popular post of the last month on your blog and ... write a sequel. You can continue the thought of the article in different ways: "5 more ways to find ...", "Other 10 methods of attracting ...", "3 new technologies from customers ...". In the same way, you can use one idea on different topics, for example, there was the material "10 tools for marketing", and now "10 tools for the content manager" was something like that. Creativity!
Idea # 5.
Guest post. Let the person concerned write on their blog. Let it be a selected author who wants to be placed on the pages of your site or blog. It will be interesting to everyone.
Idea # 6.
Collection of my best articles. In your opinion or ratings, it doesn't matter. Choose what you like and make material with links to the best works. Thus, you get a kind of hit parade only with your works.
Idea # 7.
Lead a conversation with readers. The idea is "Ask me any question." This is a great content idea if you have an active blog and you know how to respond interestingly. "Dry" answers do not attract anyone, answer interestingly, lively and truthfully, then the audience will want to ask questions and get great lively communication.
The topic for writing can always be gleaned from Western sources or from our own creativity, the main desire and constant training in something new. Come on friends!