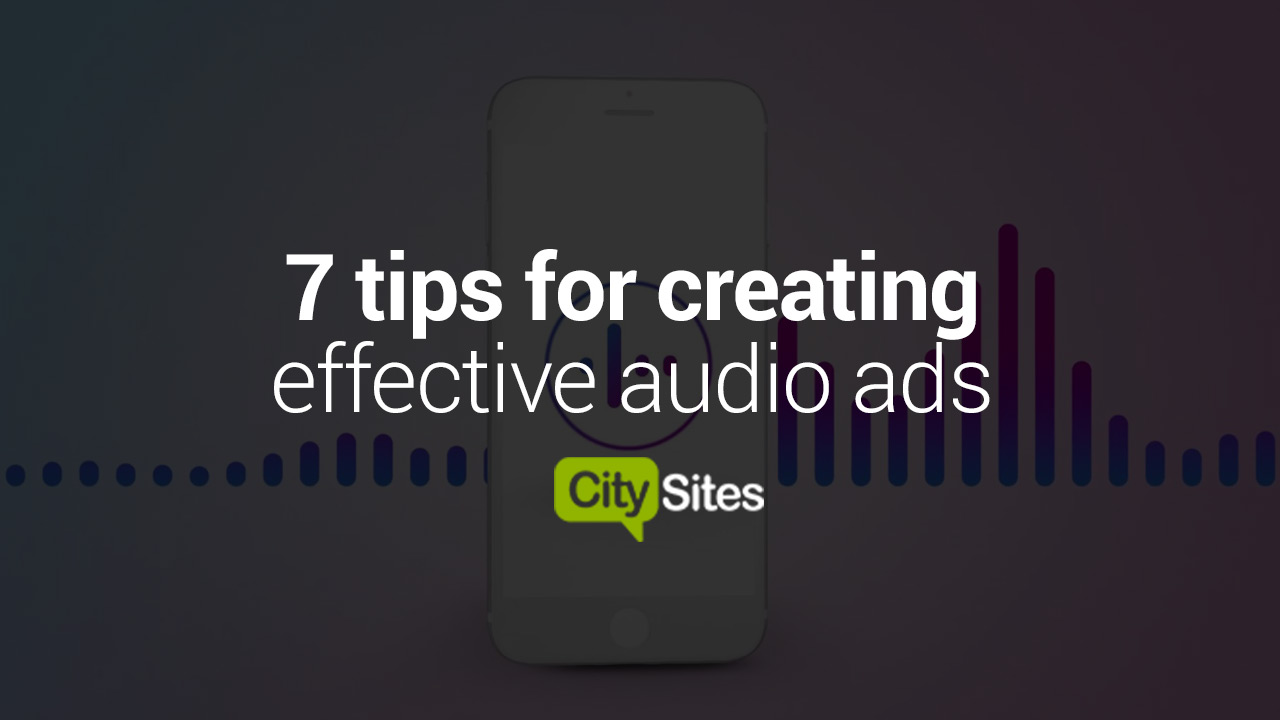 How much is necessary and relevant audio advertising today can be found in the previous article, and today there are 7 practical tips for creating it.

So, look:
Keep it simple!
Suitable friendly tone.
Tempo of speech.
Music should be quiet.
Make smooth transitions.
Estimated difference: online and radio ads
Regular placement
Audio users tend to be multitasking. Here they drive, they wash the dishes or run in the mornings. You will not get their 100% attention, because he is dispersed. For advertising to be as effective as possible, it should be as short and capacious as possible. In your location for up to 30 seconds to interest him. According to Mediascope research, users are most comfortable with videos up to 15 seconds. That is why your message should be as transparent as possible. To get an effective message, you need to answer one question: "If I would have to say one phrase. What was that?".
The voice is what your advertisement conveys. He should be positive and friendly, but at the same time clear and lively. This is very important for the audience, because the listener includes his favorite channel in order to have a good time. Advertising should also fit into this atmosphere.
Also, consider that while listening to your commercial, the listener is busy with something important and interesting for himself.
The fact that an advertising contact should be short does not mean at all that it can be rumored as contraindications to drugs or a license to use. Of course, the manner of the speaker should not be stretched, but it should be as lively and natural as possible. More life in the video!
Stream and podcast listeners are sophisticated listeners who understand audio content, so remember the content of the message, not its volume. The background track should not be rude and intrusive. Be creative and creative, as well as quiet but capacious.
We all understand that such content is inserted between songs and other entertaining material, so the transition should be as smooth as possible and without huge pauses, so as not to create a void on the air. Of course, you need to understand all the specifics of the work, so it's better to consult with a specialist several times who takes your video for publication.
These are two completely different areas, a video clip for radio is not suitable for the Internet and vice versa. Listeners of the radio - from one region (one frequency), listeners from the network can in different parts of the world. Everything matters here, so do not save and do not put the same video.
It is clear that once will not give anything? It is necessary to provide for advertising at least three times, to constantly contact the audience in order to form an opinion and interest. As for the decision to purchase, here, perhaps, you can not do with three contacts.
These are the basic tips. We also want to share a few more points to convince the video:
Emotions are much more important than logical facts. To capture attention, you need to hook the emotion. Having hooked the emotion, nobody will look for the logic of the place. Choosing the voice of the announcer, trust your emotions, if he hooked you, he will hook the others.
Voice and script. There should be synergy between the main message of the video and the voice that delivers it. The impudent message is an impudent voice. Romantic appeal - romance in tone, etc.
Sound effects convey the mood. Given the lack of video, the listener draws everything in his head, create more imagery thanks to sounds, background music and voices.