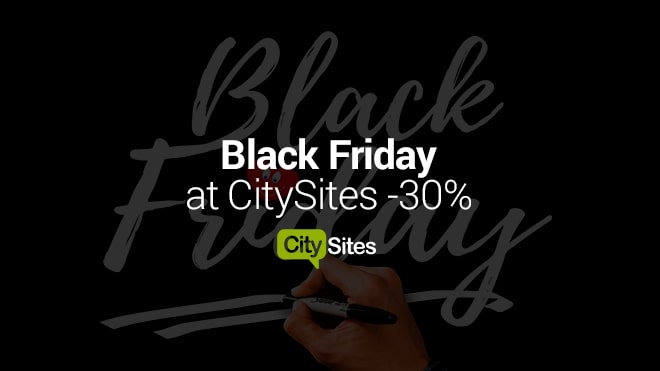 We prepared such a "delicious "A business event for Black Friday, which you simply cannot miss in your right mind!
So, we provide the opportunity to become a partner of our company on the terms franchising with savings on the purchase and organization of a business from $ 3,000 to $ 8,000 *.

* Amount savings depends on the population of the city for which you are acquiring CitySites city site franchise is valid for 24 months cooperation.
Offer includes:
city the site of the city you are interested in (provided that the company is in this city CitySites is not yet represented by a franchisee partner or affiliate);
mobile applications of your city's site for iOS and Android platforms;
branded pages of your city site on social networks;
program training the entire staff of your employees through the means of Online-University companies, as well as a variety of thematic webinars;
a business model of working with a city site, prepared and tested by 10 years of experience;
project curator who will help you organize your franchise business;
opportunity advertise your customers not only on your site, but also on 135 urban sites in 13 countries that are already network partners city sites;
technical support, which includes the constant updating of urban sites and mobile applications, their modernization, at the whole stage cooperation;
branded promotional materials for a successful start and franchise business.
The special offer is valid upon conclusion of the contract and payment of the admission fee from November 23 to 30 for all new partners. The special offer is to provide a discount of -30% on entry payment and -30% on monthly payments for 24 months .
for receive detailed information on the Business Promotion leave a request on our website or ask your question in the chat. And remember: there are many who wish, and fewer free cities
.